Dr. med. Olaf Franzen
Specialist in cardiology and general internal medicine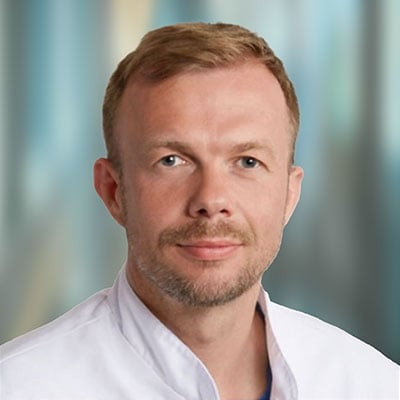 Pioneer in Catheter-Based Heart Valve Therapy
Dr Olaf Franzen has been carrying out catheter treatments of heart valve defects as a pioneer in this field for more than 10 years and has now treated more than 1000 patients with these procedures. 
Dr Olaf Franzen has developed these procedures in leading medical centres in Europe and Asia - including Hamburg, London, Copenhagen, Hong Kong and Singapore - and has published widely in this field. Dr Olaf Franzen is one of the doctors who treated patients in the renowned European "Notion Study", which compared catheter interventions and open-heart surgery in patients with aortic valve stenosis. 
This catheter procedure is now the standard treatment for most patients with aortic valve stenosis in many countries. In addition, Dr Olaf Franzen performed the first catheter procedure on humans for leaflet repair in mitral valve regurgitation in Europe. This so-called mitraclip therapy is now a widely used procedure worldwide with more than 100,000 patients treated.
Dr Olaf Franzen is available to our patients in German, English, Dutch and Danish.
Sharing is caring
Dr Olaf Franzen has been supporting the University Medical Centre in Ljubljana (Slovenia) and the Bach Mai Hospital in Hanoi (Vietnam) in cardiac valve surgery for many years.
Treatment of heart disease using catheters
Diagnosis and therapy of structural and congenital heart disease in adults
Interventional therapy of aortic valve diseases (TAVI)
Interventional therapy of mitral valve diseases (Mitraclip) with one of the largest experiences worldwide
Closure of paravalvular leaks
Atrial appendage closure
Blasting of mitral stenoses
Closure of short-circuit connections of the heart (ASD, PFO, VSD, Ductus arteriosus botallo)
Interventional therapy of coronary heart disease
Echocardiography
Specialist Cardiology & General Internal Medicine
University Heart Center Hamburg 2010
Doctor of Medizine Magna Cum Laude
University Hamburg 2020
Medical studies & medical diploma magna cum laude
University Hamburg 1989 - 1996
Dr. Olaf Franzen has treated more than 1000 patients with heart valve defects with TAVI and Mitraclip procedures.
2020
Dr. Olaf Franzen is member of the team of the the first performing physicians worldwide for percutaneous valve implantation in native mitral valve (CardiaQ valve).
2012
Dr. Olaf Franzen is the first performing physician for mitraclipping in Europe.
2009
Here you will find Dr. med. Olaf Franzen