Prof. Dr. med. Johannes Waltenberger
Specialist in Cardiology and General Internal Medicine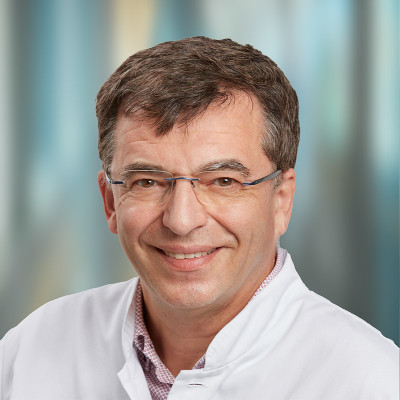 Focusing on the Individual with Great Experience
Prof. Johannes Waltenberger, MD, is a highly experienced international clinical and interventional cardiologist who has worked for over three decades in cutting-edge university medicine, research, practice and teaching in the Netherlands (Maastricht), Sweden (Uppsala) and Germany (Heidelberg, Ulm, Münster).
Prof. Waltenberger is also a pioneer in molecular cardiology. Thanks to his profound expertise, he is able to evaluate current research results and new scientific findings and to provide you as a patient with meaningful innovations and beneficial forms of therapy.
Patient Self-Determination is the Focus
Decisions about diagnostic and therapeutic procedures can be made together, gladly in the presence of your partner, a close relative or another trusted person. Ethical standards in diagnostics and therapy form the solid basis of individual and patient-centred cardiology.
Prof. Johannes Waltenberger has additional qualifications such as sports cardiology and intensive care medicine. He is available to our patients in German, English, Dutch and Swedish.
You will find a good insight into the career and diverse competences of Prof. Johannes Waltenberger, which are thus available to you at our Heart Centre, in the following two articles and in the tabs below. 


Circulation - European Perspectives in Cardiology: Pioneer Johannes Waltenberger
CardioPluse: Personal experiences of émigré cardiologist
Special scientific expertise in the field of circulatory disorders and their treatment options.
Special expertise in complex coronary situations and acute and chronic coronary syndrome.
Wide range of experience in complex and difficult borderline cases in cardiology; including many years of cardiology co-management of anxiety patients.
Many years of experience as a clinical and scientific mentor; accompaniment of professional and personal growth processes
Internationally recognised expertise: (Co-)editing of various scientific journals
Specialist in cardiology
Diagnostisches und therapeutisches Herzzentrum AG, Zürich, Schweiz
2021 - today
Cardiology attending physician
Hirslanden Klinik im Park, Zurich
2021 - today
W3 Professor (Full Professor) of Internal Medicine, Cardiology and Angiology
Westphalian Wilhelms University Münster
2011 - today
Head Physician Clinic for Internal Medicine I
SRH Zentralklinikum Suhl GmbH
2019 - 2020
Visiting Professor of Cardiology and Invasive Cardiology
Technion, Carmel Medical Center, Haifa, Israel
2019 - 2019
Registration as a doctor in Switzerland

2018
Chairman of the Centre for Internal Medicine
Münster University Hospital
2017 - 2018
Chairman of the Centre for Internal Medicine
Münster University Hospital
2012 - 2013
Authorised representative for further training in internal medicine, cardiology and intensive care medicine

2012 - 2020
Head of the Department of Cardiology and Angiology
Westphalian Wilhelms University Münster
2011 - 2018
Authorised Continuing Education Officer (Opleader) for "Invasive Cardiology
Maastricht
2005 - 2010
European Cardiologist (European Board for the Specialty of Cardiology)

2003
Registration as a cardiologist in the Netherlands
BIG-Number: 39059813801
2003
University Professor of Cardiology and Invasive Cardiology
Maastricht University, Netherlands
2003 - 2010
Specialised knowledge in steel protection according to X-ray diagnostics of the thorax and the cardiovascular system

2002
Heisenberg Fellow
Deutsche Forschungsgemeinschaft
2001 - 2002
Senior physician at the Medical Clinic, Department of Internal Medicine II (Cardiology, Angiology, Pulmonology, Nephrology)
Ulm University Hospital
1999 - 2003
Specialist in cardiology

1999
Fellow of the European Society of Cardiology (F.E.S.C.)

1997
Specialist for internal medicine

1997
Rescue service specialist knowledge

1997
Resident at the Medical Clinic, Dept. of Internal Medicine II (Cardiology)
University of Ulm
1993 - 1999
Postdoctoral Fellow
Ludwig Institute for Cancer Research, Uppsala Branch, Universität Uppsala, Schweden

Additional qualification in sports cardiology (level 2), DGK
2021
Additional designation intensive care medicine
2011
Specialist in cardiology
1999
Habilitation
Medical Faculty of the University of Ulm 1998
Specialist for internal medicine
1997
Dissertation / Doctor of Medicine
Ruprecht-Karls-Universität Heidelberg, Faculty of Clinical Medicine I 1990
Visiting studies
Boston University School of Medicine (USA) 1988 - 1988
Visiting studies
Harvard Medical School, Boston (USA) 1987 - 1988
Visiting studies
University of Glasgow (GB) 1986 - 1986
Study of human medicine, state examination (very good)
Ruprecht Karls University Heidelberg 1982 - 1988
Discovery of the molecular mechanism of action of the vascular growth factor VEGF

Discovery of growth factor resistance as a cause of impaired cardiovascular function. (Basis for new concepts in prevention and therapy of cardiovascular diseases).

Professorship in Invasive Cardiology at Maastricht University, NL (successor: Prof. Dr. Frits Bär, call primo et unico loco)
2003
Numerous honorary posts in professional societies (incl. former board member as Councillor on the Board of the European Society of Cardiology (ESC))

Professorship in Cardiology at Karolinska Institutet, Stockholm, SE (successor: Prof. Dr. Lars Rydén)
2010
Professorship for Internal Medicine, Cardiology and Angiology, WW University Münster, DE (successor: Prof. Dr. Günter Breithardt, call primo et unico loco)
2010
Founder and speaker of the project group "Ethics in Cardiology" (DGK)

Founding member of the Council on Basic Cardiovascular Science (ESC), former chair, secretary and treasurer
2006
Founding member of the Gerontocardiology Working Group (DGK)

Find Prof. Dr. med. Johannes Waltenberger here