Since Monday 3.1.2022 we welcome you new at the:
Kappelistrasse 35, 8002 Zurich, on the 1st floor.


Our new practice is located in the Villa Hofmann directly adjacent to the Hirslanden Klinik im Park.

There are a few parking in front of the heart center or in the underground parking garage of the clinic to the park. By public transport, you can find us by taking streetcar line 7 to the Brunaustrasse stop.

For more travel information, please see our travel page www.dth-herzzentrum.ch.

Our opening hours remain unchanged Monday through Friday, 8am-5pm.

If you have any questions, we are always available by phone (044 461 00 67) and mail (dth-admin@hin.ch).
New Patient Information Section
Have you used our new bilingual website yet?
In addition to comprehensive directions, it now also features informative articles about our physicians, privacy, therapies, and heart disease in general.
A handy FAQ also answers the most frequently asked questions of our patients*.

Arrival Aids | FAQ | Cardiology A-Z
The Full Spectrum of Modern Cardiology from a Single Source
With our experienced cardiologists and competent practice assistants, the Heart Center in Zurich offers the entire spectrum of modern cardiology: from the initial assessment to outpatient and inpatient diagnostics and therapy to consultation, follow-up, check-ups and second opinions, we provide you with everything you need from the doctor you trust.
With more than 1500 procedures and 20 years of experience, the Diagnostic and Therapeutic Heart Center specializes in catheter-based, minimally invasive heart valve therapy and other cardiac interventions.
Learn more about our cardiologists Dr. Olaf Franzen and Prof. Dr. Waltenberger.
Dr. med. Olaf Franzen
Hamburg, London, Copenhagen, Hong-Kong, Singapore and Zurich - as a specialist in interventional cardiology and pioneer of minimally invasive heart valve therapy, Dr. med. Olaf Franzen has been performing cather-based interventions on the heart for more than 20 years in major medical centres around the world. He is available for the entire spectrum of outpatient / inpatient diagnostics and treatment. Languages: German, English, Danish
Portrait
Book appointment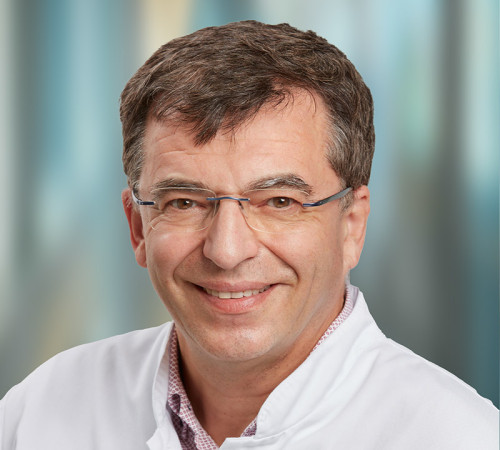 Prof. Dr. med. Johannes Waltenberger
As a professor of internal medicine, cardiology and angiology as well as an internationally recognised interventional cardiologist and vascular specialist, Prof. Johannes Waltenberger, MD, has 30 years of expertise in research and practice. He is at your disposal for solid, humane and at the same time scientifically based and innovative diagnostics, treatment and prevention. Additional qualifications: Intensive care medicine and sports cardiology. Languages: German, English, Dutch. Understand: Swedish
Portrait
Book appointment